The Story of "Snap Decision", a 1996 Jeanneau 36.2...

When I stopped by Hellier's Yacht Sales one fateful Saturday afternoon in September 1995, I had no idea that my wife Pat and I would soon be the owners of a new Jeanneau!
We had been sailing for 20 years in and around coastal New England, having moved up through a succession of sailboats. Our penchant was for Canadian boats, since they seemed well crafted and typically overbuilt for their size. The three we owned over the years had served our family well; a Paceship, a Tanzer and lastly, a VanDeStadt designed Sirius 28. We had sailed the Sirius for 12 years, watching our sons grow through their teens to adulthood. For us, it was time for a change.
The 1995 Newport show was a week away, and we had been talking about Tartans, a New England favorite and a distant dream over the years. Their 3500 was in the back of my mind as I walked down Hellier's dock to see what they were planning to bring to the show. I soon met Hellier's President Keith and toured the 3500. It was nice, but not to be...
Keith suggested a look at the Jeanneau, newly arrived in the US and being readied for the show.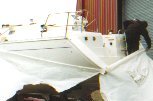 This was my first introduction to French boats and a Jeanneau of any type and I was smitten immediately. Thinking back, what I remember most was her design and comfort. Sitting in the cockpit with her rounded backrests, good visibility, easy

access to lines, the butt shaped scoop on the coamings. Wide walkways on deck. The separate shower stall in the head and the king-sized berth. After a very lively test sail the next day, we were sold. She sailed as nicely as she looked and we placed an order for 1996 delivery.
Our dreams were realized one chilly Friday afternoon the following April when "Snap Decision" arrived in New London. The day was to bring just the first of many pleasant surprises this boat would give us.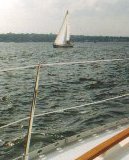 There she was, cocooned in shrink wrap, safely protected from the hazards of the many miles she traveled to our shore. Unwrapping her was like opening a giant present. It seemed like Christmas in Springtime!

By May she was commissioned and we were sailing in time for the Memorial Day holiday weekend, thanks to the efforts of Hellier's crew. Since four 36's were sold that spring, we had plenty of company and several opportunities to tune up our sailing skills. One of our early sails was with sister ship "No Pressure", shown here as we beat down the Thames River into a 12 knot southwesterly.
Many more pleasant days were to follow. Later that summer, we had an opportunity to sail to Coecles Harbor, a lovely anchorage nestled in Shelter Island, on Long Island, New York. We were accompanied by Chris, our youngest, and his friend Janis.

It proved to be a wonderful weekend to shake out the sails, calibrate the instruments and play with the GPS and autopilot.
Now 3 years later and with 3 full seasons and about 1800 miles under our keel, we think our "Snap Decision" was one of the best ones we made!